The Catherine Howard Conspiracy is going on a blog tour from Monday 13 May 2019 – Friday 17 May 2019.
For those of you who are unfamiliar with such an event, which until very recently included me, then the Wikipedia definition is:
A blog tour is a set amount of time in which your book is promoted
across various websites and blogs. The dates are set in advance, each
blog knows what material it will be posting and the content should
be unique to each blog.
The number of people hosting me is huge and I'd like to say thank you to each and every one of them for taking the time to read The Catherine Howard Conspiracy and help to tell the world about it. Â Sapare Books are pretty awesome, too, for organising this event. Thank you!
The details are here: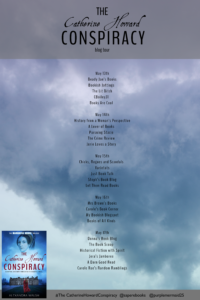 If you have time, please do follow us and join in the fun. I've written guest blogs for History from a Woman's Perspective and Chicks, Rogues and Scandals, as well as doing an interview for Jorie Loves a Story. It was quite odd, after years of being a journalist, to be the one answering the questions rather than asking them.
And, in case the writing on the above poster is a bit too tiny, here's the full list of the tour dates and links:
Monday 13 May

Beady Jan's Books – https://beadyjansbooks.blogspot.com

Bookish Jottings – https://bookishjottings.wordpress.com

The Lit Bitch – https://thelitbitch.com

CBailey31 – http://cbailey31.blogspot.com

Books Are Cool – http://www.booksarecool.com

Tuesday 14 May

History from a Woman's Perspective – Guest Blog – http://www.historywomanperspective.com

A Lover of Books – https://aloverofbooks.wordpress.com

Pursuing Stacie – https://pursuingstacie.wordpress.com

The Crime Review – https://thecrimereview.com

Jorie Loves a Story – Author Interview – https://jorielovesbookishblogs.com

Wednesday 15 May

Chicks, Rogues and Scandals – Guest Blog – https://chicksroguesandscandals.wordpress.com

Varietats – https://varietats2010.com

Just Book Talk – http://www.justbooktalk.com

Steph's Book Blog – https://stephsbookblog.com

Let Them Read Books – http://letthemreadbooks.blogspot.com
Thursday 16 May

Mrs Brown's Books – https://mrsbrown.me

Carole's Book Corner – https://carolesbooks.blogspot.com

My Bookish Blogspot – https://mybookishblogspot.wordpress.com

Books of All Kinds – https://booksofallkinds.weebly.com

Friday 17 May

Donna's Book Blog – https://donnasbookblog.wordpress.com

The Book Scoop – (Link to come!)

Historical Fiction with Spirit – https://jennifercwilsonwriter.wordpress.com

Jera's Jamboree – https://www.jerasjamboree.co.uk

A Darn Good Read – https://adarngoodread.blogspot.com

Carole Rae's Random Ramblings – http://www.caroleraesrandomramblings.com
Hope to see you on tour next week!