Remember, remember the fifth of November…
Guy Fawkes, Robert Catesby, Thomas Wintour are the names most often associated with the fateful plan to blow up King James I and Parliament in 1605 but there were many more, including their wives.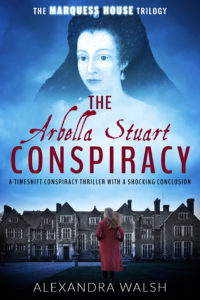 My interest in the people involved in the Gunpowder Plot was an off-shoot of the two plots, the Bye and Main Plots of 1603, which I researched for The Arbella Stuart Conspiracy (Part Three of The Marquess House Trilogy). What intrigued me was the reappearance of the names of the men involved in the 1605 Gunpowder Plot. Even more intriguing was their involvement in an earlier rebellion, led by Robert Devereux, Earl of Essex in 1601, when he tried and failed to and wrest the throne from Queen Elizabeth I.
One of their main links was through their religion, Catholicism, but I was interested by the fact that they were willing to continue plotting together even after several catastrophic failures: 1601 left the Earl of Essex dead; 1603 caused the execution of several of the plotters and the life-long incarceration in the Tower of London of the others, including the famous Elizabethan adventurer, Sir Walter Raleigh.
Why were these men so determined to continue?
Delving into their genealogies, it became apparent there were family ties through their mothers, wives and sisters. These connections wove them more tightly together, making the progression of their desperation to try and secure better rights for Catholics and revenge themselves in King James I, more logical.
However, as is often the case, their story is written in a vacuum with few mentions of those around them. To commemorate the failed plot, here's a brief round-up of the wives of the plotters, the women who may have encouraged or discouraged
, depending on their views, but who all shared the fate of becoming widows when things went so horribly wrong.
Catherine Leigh (b: 1571/2. m: 1593. d: 1599)
 The wife of plot planner and instigator, Robert Catesby (abt 1572, Warwickshire – 8 November 1605, Holbeach House, Staffordshire). Father: Sir William Catesby. Mother: Lady Anne Throckmorton (Great-Aunt of Elizabeth Throckmorton, wife of Sir Walter Raleigh).
Catherine was the daughter of Sir Thomas Leigh of Stoneleigh, Warwickshire and Alice Barker, sometimes known as Coverdale. Alice was an heiress, thanks to her uncle Sir Rowland Hill of Longborough, Gloucestershire. Sir Rowland's estate was entailed to Alice on her marriage in 1533. Thomas worked with Sir Rowland and after he had married Alice, Rowland bought Stoneleigh Abbey for Thomas, where he built a manor house. They were a wealthy Protestant family.
Christened in January 1572 in Warwickshire, Catherine grew up in a comfortable and influential home. When she was 21 she married Catholic Robert Catesby in March 1593. They had two sons: William – who died as a baby – and Robert. It seems Catherine's family offered Robert Catesby some respite from the recusancy laws. The differing religions suggests various possibilities: it was a love match or in his youth, Catesby, was not such a zealous Catholic and political activist.
There are varying suggestions for the date of Catherine's death, one is the proposed date of 1599, the other is 1602. The earlier date seems likely, as it was only after his wife's death that Catesby seemed to take more interest in politics and embrace Catholicism. Whichever is correct, Catesby was a widower by the time he instigated the Gunpowder Plot and perhaps felt he had nothing to lose no matter what the outcome.
Martha Wright
Martha, the daughter of Robert Wright and his wife convicted recusant Ursula Rudston, was up to her eyes in Gunpowder Plotters. She was married to Thomas Percy (1560 – 8 November 1605, Holbeach House, Staffordshire), while her brothers were John (Jack) and Christopher (Kit) Wright staunch members of the team. Her brothers had also been involved in the 1601 revolt with the Earl of Essex and interestingly, were at school with Guy Fawkes.
The Wrights were a respectable family and Martha's husband, Thomas Percy (Father: Edward Percy of Beverley. Mother: Elizabeth Waterton), was well connected. His grandfather was the 4th Earl of Northumberland and his second cousin, was the incumbent earl: Henry Percy, 9th Earl of Northumberland, who was married to Dorothy Devereux, sister of the Earl of Essex, who led the 1601 coup.
Thomas was said to have dined with his cousin, Henry Percy, the evening before the plot. He was also the man who hired the basement where the gunpowder would be stored and where Guy Fawkes was discovered. When the plot was revealed, Percy rode to Holbeach House in Staffordshire, where he joined Robert Catesby and his brothers-in-law, John and Christopher Wright before the bloody shoot out when the main instigators were killed.
Anne Tufton
Anne was married to Robert Catesby's cousin, Francis Tresham (1567 – 23 December 1605 in the Tower of London, of a natural illness). Anne was the daughter of Sir John Tufton of Hothfield in Kent and his first wife, Olympia Bloor/Blore. She married Tresham in 1593 and they had three children: twins, Lucy and Thomas, and Elizabeth. Thomas died young, Lucy became a nun and Elizabeth married Sir Heneage of Hainton, Lincs.
There are few records of Anne but her father, Sir John Tufton, was the Sheriff of Kent from 1575-1576 and was knighted in 1603. He was created the 1st Baronet Tufton of Hothfield on 29 June 1611 and became a Baronet of Ulster – the Red hand of Ulster can still be seen on his tomb. When the church of St Margaret in Hothfield, Kent, was destroyed by fire caused by a lightning strike, he paid for it to be rebuilt and included within this a Tufton family vault.
The Tufton family were not known to be Catholics, so it is debateable whether Anne knew of her husband's involvement in the Gunpowder Plot. Records of Tresham's misdemeanours – assault, affray and general bad behaviour – suggest he was not always reliable and it is thought he was a latecomer to the plot, not joining the others until October 1605. However, with Catesby as his cousin and Thomas Wintour, another plotter, secretary to Tresham's brother-in-law, William Parker, 4th Baron Monteagle, it is possible Tresham guessed there were plans afoot and wanted involvement.
It has been suggested that Catesby did not trust him and with good reason as it is thought Tresham was the writer of the Monteagle Letter warning his brother-in-law, Lord Monteagle, not to attend Parliament on 5 November, which gave away the plotters. Tresham denied this vehemently. Whether Anne was aware of her husband's involvement, he was arrested on 12 November after being named by Guy Fawkes. Tresham was saved the indignity and shame of execution by dying of illness while incarcerated in the Tower of London.
Anne's reaction appears to be undocumented but as a Protestant, she would have been safe from the law. Even as a secret Catholic, she would have escaped suspicion but it must have been tough to see her husband die in such squalid circumstances.
No records
Guy Fawkes (1570 – 31 January 1606, executed in Old Palace Yard, Westminster) was the man caught at the scene of the crime and is the best remembered. Sources claim he was married with a son but there are no records to confirm this.
He went to St Peter's School in York with the Wright brothers and was recruited by Thomas Wintour. Robert Catesby initiated him and Thomas Percy into the plans in May 1604.
On 6 November 1605, the king authorised the use of torture and the testimony Fawkes gave on 7, 8 and 9 November revealed the names of his conspirators. He was tried with the other surviving conspirators on 27 January 1606.
No records
Thomas Wintour (1571, Worcestershire – 31 January 1606, executed in Old Palace Yard, Westminster).
No records of a wife. (Although, you might want to read Tracy Borman's brilliant The King's Witch for suggestions!)
Gertrude Talbot (1563 – 1608)
The Talbot name walks astride many ancient families in the English nobility. The most famous is that of the Earls of Shrewsbury, most notably George Talbot, 6th Earl of Shrewsbury and his second wife, Bess of Hardwick who were hosts to Mary, Queen of Scots during her captivity in England.
Gertrude married the elder brother, Robert Wintour, and they had three children: John (1595 – 1622); Mary (1597 – 1617) and Helena (1600 – 1671). An online genealogy site suggests, Gertrude was born in 1563 at Grafton Manor, near Bromsgrove, Worcestershire, and was the daughter of Sir John Talbot and his second wife, Katherine Petre. Her brother was George Talbot, 9th Earl of Shrewsbury and was also a Catholic priest.
The Wintours were known Catholics and, with Catesby, were at the heart of the plot, making it probable Gertrude was aware of her husband's involvement. Whether she quietly supported him, providing places for the plotters to meet at their homes is supposition but would seem possible. Robert was arrested with the remainder of the plotters and was executed 30 January 1606 in St Paul's Churchyard. Anne died two years later.
Dorothy Wintour
 The sister of Thomas and Robert Wintour and the daughter of George Wintour of Coldwell, Worcestershire and Jane Ingleby. George Wintour was the son of Catherine Vaux and Sir George Throckmorton who was Anne Throckmorton's brother. Anne Throckmorton was Robert Catesby's mother, so the plotters were very intertwined. Dorothy married fellow plotter, John Grant (1570 – 31 January 1606, executed in Old Palace Yard, Westminster) from Warwickshire, where he owned Norbrook, a house not far from Stratford-Upon-Avon. This was regarded by the other plotters as a strategic stronghold.
Dorothy and John had one son, Wintour Grant, however, he does not seem to have married.
To think Dorothy did not know what was happening would be insulting to her intelligence when so many of her family was involved. With the other wives, many of whom were related to her through marriage and blood, the possibility of the women providing a support network for their husbands is one which cannot easily be dismissed. These were women who had grown up at the heart of power, they understood the games of the court and it's likely they too were hoping for a change of regime which might have been more sympathetic to their religious beliefs.
Dorothy (no known maiden name)
Dorothy was the sister-in-law of Martha Percy. She was married to John Wright (aka Jack) (January 1568 – 8 November 1605, Holbeach House, Staffordshire) who was one of the original members of the Gunpowder plotters. Sadly, despite searching, I am yet to discover Dorothy's maiden name, making it difficult to ascertain more details.
However, there are suggestions the couple had a daughter but there is no record of her name or survival.
Margaret Ward
Margaret was also sister-in-law to Martha Percy, as she married the younger brother, Christopher (Kit) Wright (8 November 1605, Holbeach House, Staffordshire).
The brothers were known recusants and were arrested in 1596 under suspicion of a conspiracy concerning Queen Elizabeth I. This led to them being imprisoned after the Essex rebellion in 1601. From the beginning of Catesby's plot, they were at the centre of activities and stayed with Catesby until the bloody end.
One online genealogy site suggests Margaret was the daughter of Edward Warde and was baptised on 12 October 1571 in the parish of Aldborough in Yorkshire. There is another suggestion that Margaret and Kit had six children: Katherine, Edward, John, Elizabeth, Francis and Marmaduke.
Elizabeth Tyrwhitt
The daughter of William Tyrwhitt and Catherine Browne, Elizabeth and her family were an old, wealthy and prominent Catholic family. Her marriage to Ambrose Rookwood (1578 – 31 January 1606, executed in Old Palace Yard, Westminster) was a power match combining two powerful Catholic families. Ambrose was the son of Robert Rookwood of Stanningfield, Suffolk by his second wife Dorothy, daughter of Sir William Drury of Hawstead. The Rookwoods were also an old and influential family, having held the manor of Stanningfield since Edward I, and had many members who represented Suffolk in Parliament. However, the family remained staunchly Catholic and many of them, Ambrose's parents included, were fined and imprisoned for their faith.
In 1600 on the death of his father, Rookwood inherited his father's considerable estates, all four brothers by his father's first marriage having predeceased him. Along with his wife Elizabeth, he made Coldham Hall a 'common refuge of priests'.
Rookwood was the go-to man for horses too, dabbling in horse breeding. Once again, it seems likely Elizabeth was aware of the plot but as with the other wives, the punishments for female recusants was far lighter than those for men, suggesting they might have been willing to shoulder the responsibility of the mechanisms of the plot.
Men who refused to conform to the Protestant ruling of the country were subjected to the punishments laid out in the 1559 Act of Uniformity of Common Prayer and Administration of the Sacrament and the 1593 Act for Restraining Popish Recusants which included: imprisonment if you held or attended private masses; initial fine of 12 shillings for non-attendance at church, increasing to £20 per month for continued non-attendance and if the fines were not paid, imprisonment.
It was quite different for Catholic women. Married women had no property of their own, therefore could not pay their own fines, meaning that wives had some degree of immunity from financial penalties if found to be an active recusant. Also, allowances were made for women whose husbands were conformists, but only if those women were not converting people to Catholicism. In the early 1590s the Privy Council began ordering the imprisonment of recusant wives of conformist men if they converted or tried to convert others.
Christina Groome (widow)
Married to Robert Keyes (1565 – 31 January 1606, executed in Old Palace Yard, Westminster) there are no records of Christina's maiden name, so it is difficult to trace her connections. However, it is recorded that Christina was the widow of Thomas Groome and was working as governess to the children of Henry Mordaunt, 4th Baron Mordaunt, when she married Keyes.
Robert was first cousin to Elizabeth Tyrwhitt, the wife of Ambrose Rookwood, giving him Catholic connections as well as links to the other plotters, although, it is suggested his father was a Protestant rector.
Keyes was brought into the plot late in October 1605 and was given the role of looking after the gunpowder and other equipment stored at Thomas Percy's house. He left London once the plot had been discovered but did not travel to Holbeach House with the others, instead he was arrested a few days later. Sadly, with no further records, we know nothing of Christina's role events.
Martha (no known maiden name)
The wife of Robert Catesby's devoted servant Thomas Bates (1567 – executed 30 January 1606 in St Paul's Churchyard) Martha is another whose parentage is proving hard to trace.
Born at Lapworth, Warwickshire, Bates was initiated into the plot in December 1604. When the plot was discovered, he raced with Catesby to Holbeach House in Staffordshire but was not there for the deadly shoot-out. Whether he dashed off to see his wife, we will never know, but he was arrested soon afterwards.
Mary Mulsho
Mary was the daughter and heiress of the staunchly Protestant William Mulsho of Gothurst (later Gayhurst). In 1596, she married Sir Everard Digby, who was born a Catholic but was raised as a ward of court as a Protestant. The marriage seemed to be a happy one and they had two sons: Sir Kenelm Digby (11 July 1603 – 11 June 1665) who married Venetia Stanley and John Digby.
After their marriage, the young couple moved in with Mary's father at Gayhurst House in Buckinghamshire. The house was built in the early 16th century on the site of a Roman villa and Norman manor. Mary's father extended it in 1597, possibly to accommodate the newlyweds.
Digby was the eldest son of Everard Digby, Esquire (d. 1592) and his wife, Maria Neale, daughter of Francis Neale of Keythorpe, Leicestershire. However, his first cousin Anne Vaux, a known Catholic sympathiser who was also related to Catesby. In 1605, Sir Everard was part of a Catholic pilgrimage to the shrine of St Winefride's Well, Holywell. It was not long after this he met Catesby and was persuaded to become part of the Gunpowder Plot.
Letters smuggled out of the Tower of London written by Sir Everard Digby were discovered 70 years later and tell of his growing commitment to the Catholic faith and its restoration in England. From these letters we discover that after the death of her parents, Mary inherited Gayhurst House and also claimed she wished to convert to Catholicism. It is also suggested she accompanied her husband on the pilgrimage to St Winefride's Well.
However, most interesting of all, was the fact that when the plot was discovered and Sir Everard Digby joined his co-conspirators at Holbeach House, Mary was at Coughton Court in Warwickshire, the family home of the Throckmorton family, with the priest, Father Garnet. If Mary was there, it begs the question, who else was with her? The Throckmortons and the Vaux family were related and as Anne Vaux was a known recusant and had hidden many priests, it suggests Coughton Court was being used by other members of the families of the plotters as they prepared for the gunpowder attack and the subsequent planned uprising.
Digby was not at Holbeach House when the other men were killed having ridden away accompanied by two servants in order to fetch help. He was caught and arrested a few days later and while in the Tower of London managed to smuggle out his letters.
He was tried separately because he pleaded guilty and made a speech from the scaffold referring to what Catholics thought were promises made by the king at the beginning of his reign, all of which had been reneged upon. Mary escaped punishment and after her husband's execution, she was allowed to keep Gayhurst House. It was eventually inherited by their eldest son, Sir Kenelm Digby.
Thanks for reading my blog. If you would like to know more about the other plots some of the men were involved with prior to 5 November 1605, then check out The Marquess House Trilogy, particularly The Arbella Stuart Conspiracy which features the Bye and Main Plots.
Available on Amazon and to order from all good book shops.